This month's featured title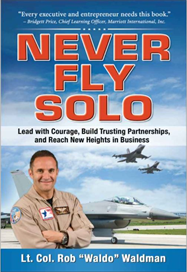 Never Fly Solo: Lead with Courage, Build Trusting Partnerships, and Reach New Heights in Business
Robert "Waldo" Waldman
Rob "Waldo" Waldman understands one thing better than most businesspeople: You can't reach your highest potential alone. You need wingmen―trusted partners―who can help you overcome obstacles, adapt to change, and prepare for success. A decorated former combat F-16 fighter pilot and now a successful entrepreneur, Waldman lives his life by this rule.
Whether you're a senior executive, mid-level manager, or new hire fresh out of college, your success depends on the mutual support of trusted associates. In Never Fly Solo, Waldo helps you maximize your relationships to reach your greatest potential. You'll learn how to:
1. Commit to the core wingman values of integrity, accountability, service, and excellence.
2. Transform your relationships with colleagues into interdependent partnerships for success.
3. Take courageous action and ask for help when adversity strikes.
4. Communicate effectively in high-stress situations.
5. Connect with your coworkers and customers on a deeper level.
Through compelling, real-world stories, Waldo relates how his Air Force wingmen helped him overcome challenges and become successful by teaching him lessons that work in an office as well as in a cockpit.
Like the world of aerial combat, today's high-stakes business world operates faster than the speed of sound. Teamwork and trust are critical for thwarting the missiles of fear, change, and risk that too often send even the most seasoned professional into a downward spiral.
You can't dodge these missiles alone. Never Fly Solo is your flight plan for taking positive action that leads to greater success.
Find out more at www.neverflysolo.com.
The author will donate a portion of the book's proceeds to veterans charities.
---
Speaker Recommended Titles